What are FLAX SEEDS 400 Grs.? VITOBEST?
VITOBEST? FLAX SEEDS have a large amount of dietary fibre, are the richest known vegetable source of Omega 3 fatty acids and the richest source of weak oestrogens, which makes them a superfood.
Benefits of FLAX SEED 400g? VITOBEST?
May reduce oestrogen in fat cells,
Limit the stimulating effect of oestrogen,
Prolong menstrual periods
Increase the number of oestrogen transporters.
Phytochemicals called lignans are potent anticarcinogens.
Its amount of fibre is higher than any other cereal and for this reason it is highly recommended in weight reduction diets.
To reduce cholesterol.
Prevent constipation.
The Omega 3 in flax is higher than in fish or any other vegetable or cereal.
The llignans act in the prevention of breast and colon cancer and these are available to all people simply by adding ground flaxseed to their diets?
Presentation of Flaxseed Vit.O.Best: 400 grams pack.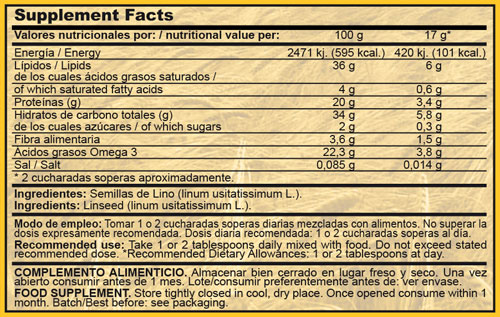 ?