Buy Amix Chelazone Online
Enjoy the entire catalogue of the new Amix Chelazone series. The best products at the best price on the market, guaranteed!
What is Amix Chelazone?
The new line called Chelazone is a new line of supplements designed by Amix in which you will find supplements of minerals of the latest generation and of the highest quality, which is characterized because all the supplements of this line contain chelated minerals.
Minerals are compounds that our body needs on a daily basis in certain quantities to correctly develop a large number of physiological functions.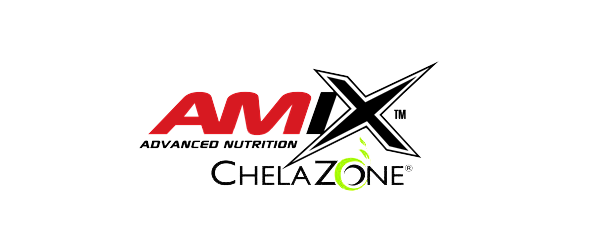 The chelated minerals that we can find in this line are in a natural chemical form for the human body and also have the advantage that their absorption is much faster and easier than in other forms, so it has a positive impact on obtaining all the benefits that can bring us this series of minerals.
Chelazone from Amix contains all the minerals in supplements in chelated form so that their quality and characteristics are guaranteed by this patent.
They are more effective and increase the bioavailability of the mineral, as well as the absorption rate, which is increased.
In this line we find the most important minerals such as calcium, magnesium, zinc, iron or combinations of the above.
Amix Chelate has been elaborated with a capsule of vegetable origin and immediate release called V Caps. 
They are characterised by an excellent dissolution profile and are approved by the Vegetarian Society.
Who is Amix Chelazone recommended for?
Chelate is a line of products recommended for all those who want to enjoy the benefits of high quality mineral supplementation, as well as improve their health. Its absorption rate is much higher.
What kind of products can we find in Amix Chelazone?
We can find mineral complexes such as Zinc, Magnesium, Calcium etc. or a combination of several minerals.
Where to buy Amix Chelazone?
You can find all the products of the Chelazone range on our website. We put at your disposal all of them, facilitating the accessibility to them so that you can enjoy their benefits and properties.