Buy Amix Musclecore Online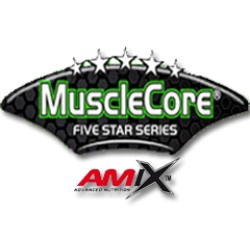 WHAT IS MUSCLECORE?
Large Life, founder of Amix , was established in Manchester, UK in 2003 as a company that manufactures products for athletes based primarily on quality, as a feature, of those who require a high physical demand.
After a deep and constant research, the company and its leading brand, Amix Nutrition , have managed to consolidate the brand and capture the most demanding consumers all over Europe.
The Amix Musclecore range of sports supplements has been created in collaboration with competitive athletes , a range of products designed exclusively for the most demanding strength, fitness and bodybuilders looking for effective and quality supplements.
At Amix Nutrition, the Amix Musclecore supplement series is developed to the highest standards of quality and is formulated with the best patented ingredients in the world. This has led to many products in the field of sports supplements that were previously unheard of, and Amix Nutrition makes them available.
AMIX MuscleCore has been signed and recognized by one of the most successful athletes in the world, champion in Arnold Classic 2014 held in Ohio, United States, Dennis Wolf, IFBB PRO athlete.
In this range you will find products with the most powerful formulas that can help you maximise your abilities, improve performance and maximise recovery.
OUR PRODUCTS
If you are a disciplined athlete with your diet and supplements , Amix MucleCore offers a range of 10 performance enhancing products with different targets so you can achieve effective results. 
Within the product line, we can find those focused to use before training (bcaas), high quality and pure proteins for after training (CFM Nitro Protein Isolate or creatine), as well as others for joint care . 
Amix MuscleCore's flagship product is CFM Nitro Protein Isolate , a blend of 5 types of creatine that combines purity and quality for the best possible results. 
DENNIS WOLF and MUSCLECORE
Dennis Wolf continues to be one of the most prestigious bodybuilders in the world, since his amateur debut in 1999, where he took second place in the heavyweight category at the NWR Newcomer Championship. 
In his last international competition he took third place in the Mr . Olympia 2013, only behind Phil Heath and Kai Greene And champion of the Arnold Classic 2014
Josef Bukvic, manager of Large Life, said: " The brand has chosen Dennis to support its growth and international expansion of Amix Nutrition products and brand in its current and future markets. Having Dennis with Amix presents a joint statement for him and our fans, sports enthusiasts and the bodybuilding community worldwide ".
He also added that: " The connection between Amix Nutrition and Dennis Wolf is a perfect match, as they are both very focused on being the best at what they do. Our focus on the latest technologies, innovations, purity and superior performance matches Dennis' values and actions."
"Our company successfully acted as the main sponsor of the prestigious EVLS Prague 2012 competition and already saw Dennis victorious. With such a platform, strong and solid partnerships and ultimately the dedication of Dennis and all that surrounds him, we are committed to our joint success and further " growth, explained the Amix executive .