Buy Body Attack Online
Body Attack Sport Nutrition . German sports supplement brand. Made in germany. Directly from Hamburg. Best prices only on our website.
Body Attack is a German company founded in 1994. During its more than two decades of existence, the company has made it its main and non-negotiable goal to set the highest quality standards in its production. To this end, all products undergo strict controls that certify their properties, providing safety and reliability that are absolutely key for consumers.
The results of this work philosophy are very visible, as Body Attack Nutrition has achieved an international presence in more than 30 countries. To meet such a high and varied demand, its catalogue offers a surprisingly large number of articles, amounting to approximately 2000 items.
Body Attack Nutrition and the transformation of the supplementation industry
A few years ago, it seemed impossible to think that a company could achieve such a level of commercial success by dedicating its entire production activity to sports nutrition.It is a discipline that, for some time now, has experienced an exponential growth that has massively increased the number of people interested in its products.
To understand this impressive boom, we have to look at another phenomenon that, although it started a little earlier, has been developing in parallel and pushing the sports nutrition sector: the fitness boom.
Bodybuilding has always been an activity that has been conceived as a complement to other sports.
In other words, going to the gym served to improve the performance of athletes practising all kinds of disciplines. Gradually, however, fitness began to emerge as a physical activity in its own right, and many sports fans were attracted to a philosophy that, rather than competing against a rival, focuses on personal improvement.
The supplementation industry was one of the big beneficiaries of this trend, as it emerged from a rather marginal position in the market. The demand for its products had always been limited to top-level professional sportsmen and women, and sports nutrition was surrounded by an exclusivity that meant that no amateur could even imagine being able to count on the help of an expert nutritionist. But then fitness came along and performance enhancement became a common goal, so supplementation began to be seen as an aid to which many aspired.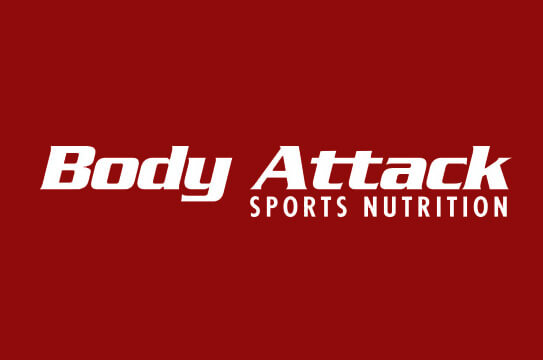 The success of the brand: from Body Attack basic fit to professional
The companies involved in sports nutrition at the time were overtaken by an explosion in demand and had to respond by expanding their offerings. Such a business opportunity led to the emergence of new brands, which were born with a direct focus on meeting emerging needs and sometimes overtook companies that had been in business for many years, but had not been able to take advantage of the influx of so many customers.
Body Attack Nutrition is a perfect example of the opposite case: a long-established firm that lived through the fitness revolution and capitalised on it. The best way - and possibly the only way - to do so has to do with a broadening of the portfolio from being focused only on elite athletes to offering solutions for all kinds of sporting needs, no matter the level of demand.
The German company has a team of experts in fields such as nutrition, chemistry and biology, whose research is vital to create different ranges of supplementation. Each is targeted at a different type of customer, and they all share a differentiating feature that has brought Body Attack to the top of the industry worldwide: quality .
Its manufacturing procedures are certified to ensure compliance with quality standards, and the raw materials used are the best on the market, including patented formulas. In this way, with tireless work, the Body Attack catalogue has reached the point where it is now, with some 2000 products available .
Both beginners starting out in the world of supplementation and looking for basic fit products, as well as professional athletes who entrust their fitness to the German brand, have the option of finding what their body needs. Always with the security of a company that puts quality as a non-negotiable factor.