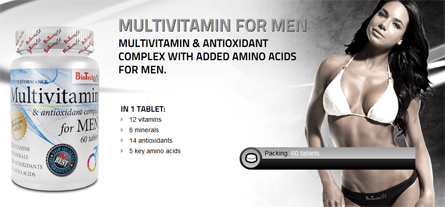 What is Biotech Multivitamin for men?
BIOTECH USA MULTIVITAMIN FOR MEN 60 TABS. The multivitamin designed exclusively to supplement the vitamin and mineral deficiencies of athletic men.
Multivitamin for Men by Biotech Usa contains a unique blend of amino acid complexes, antioxidants and fruit and vegetable extracts.
Multivitamin for Men is the ideal daily supplement for maintaining good health and excellent long-term performance.
Multivitamin for Men is recommended for all men, as it has been specially developed to meet men's nutritional needs.
If your body does not get all the vitamins and minerals it needs, you will not be able to maintain good health and performance.
The answer lies in Multivitamin for Men?
Main benefits of Multivitamin for Men BioTech USA: 
Complete formula with 12 Vitamins and 8 essential minerals.
Vitamin B complex.
Bone-strengthening nutrients.
14 antioxidant ingredients.
Includes 5 amino acids.
Antioxidant fruit and vegetable blend.
Lutein, lycopene and alpha lipoic acid.
Multivitamin for Men from Biotech Usa provides balanced nutrition with special emphasis on antioxidants, vitamins and minerals to supplement a healthy diet specially formulated for men.
Multivitamin for Men is a very complete vitamin complex containing all the vitamins, minerals and trace elements necessary for the proper functioning of the human body.
 Multivitamin for Menes is very useful in cases of stress, exhaustion, lack of energy, low defences, very demanding diets, highly demanding physical routines for high performance sports.
Multivitamin for MenStrengthens the immune system, supports the normal functioning of the nervous system, supports the synthesis of amino acids and proteins.
It has antioxidant properties, acts as a natural source of energy, aids vascular strengthening, supports normal prostate function.
It contains a large amount of B vitamins, very important in the metabolism of nutrients and proteins, which are very important for sportsmen and women seeking to increase fat-free muscle mass.
Presentation of Multivitamin for men by Biotech USA:
Pack containing 60 tablets.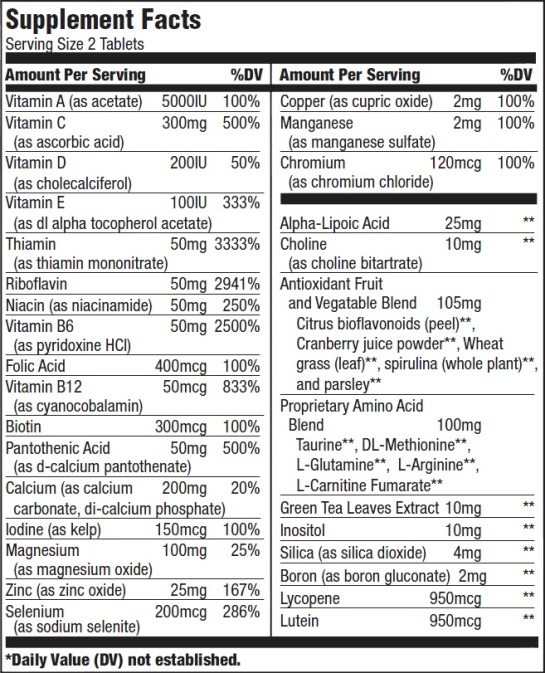 ?