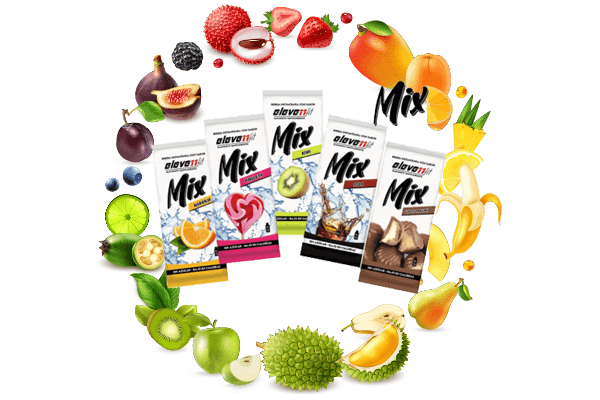 What is Eleven Mix?
Eleven Mix by Drinks Mix is a refreshing and delicious drink in powdered form, sugar-free and low in calories. It is ideal for people looking to follow a diet or people who are watching their calorie intake.
Eleven Mix is a simple way to increase water intake. Each 9 gram sachet can provide a 1.5 litre drink of water. In addition, Mix has more than 45 different flavours with which you can change and make your favourite calorie-free drinks.
Who can take ElevenFit Mix?
ElevenFit Mix is available to everyone, as it is allergen-free and contains no carbohydrates or calories. Each 250 ml glass has less than 5 calories in it and the whole 1.5 litre bottle contains only 30 calories, which is hardly noticeable. In Eleven Fit Mix you will find all kinds of flavours, from fruit to sweet flavours such as brownie, white chocolate, or even "Unicorn" flavour. For that reason, thanks to Eleven Fit Mix we will have the possibility to make from magnificent refreshments to use them as flavourings for your favourite sweet foods such as cakes, biscuits or cupcakes. Moreover, its simple dissolution allows you to add it even as a flavouring to make different recipes such as jellies, jams, syrups.
Eleven Mix comes in convenient 9-gram sachets, so you don't have to calculate the weight or have a very large place to store it.
It is a food supplement without aspartame and acesulfame potassium. In addition, Elevenfit Mix shines with its high vitamin C content, a vitamin with prominent antioxidant power that is directly involved in the care of energy metabolism.
How to use:
Dissolve the contents of the product sachet in 1.5 litres of water.
Ingredients
Acidifier: citric acid, malic acid; maltodextrin; flavouring; acidity regulator: trisodium citrate; anti-caking agent: tricalcium phosphate; sweetener: sucralose; colouring agents: purple carrot anthocyanins; l-ascorbic acid.
Storage
Keep in a cool, dry place.
Warnings
Food supplements should not be used as a substitute for a balanced and varied diet. Keep out of the reach of children. Do not exceed the recommended daily dose.