Buy
Adjustable Dumbbells

ONLINE only best brands

The cheapest adjustable dumbbells on the market . Top quality products and shipments in 24/48 hours. Perfect for training at home.
---
What are dumbbells? 
The dumbbells are the material that allow you to perform a variety of exercises and movements by adding weights externally in order to increase the loads, externally and progressively. 
It is one of the pieces of equipment, which we can usually find in gyms or places to train,
The adjustable dumbbells can be used in a large number of ways and variants, including them in a multitude of exercises, both upper and lower body. 
Having your own dumbbells at home, makes it easier to carry out workouts without the need to travel. 
There are different types of dumbbells depending on whether the weight they contain can be modified or not:
Adjustable dumbbells: you can change the weight without having to use a different dumbbell.They are the recommended variant for those who want to train at home, as it is the simple and versatile way to have the variations and weight intervals.
Fixed dumbbells : the original weight cannot be changed, to increase the load we must change the dumbbell. You need one of each weight.
What are dumbbells for?
The loads that allow us to include dumbbells in our workouts and exercises have the advantage that they can be progressively increased.
The range of movement that they allow in each exercise is generally greater than with other types of accessory to add load.
Dumbbells are one of the accessories and equipment that cannot be missing in strength and hypertrophy training.
They allow you to work unilaterally if you wish and are much more comfortable and manageable than other types of equipment, for example, bars or large discs. We can use them together or just one for the whole exercise.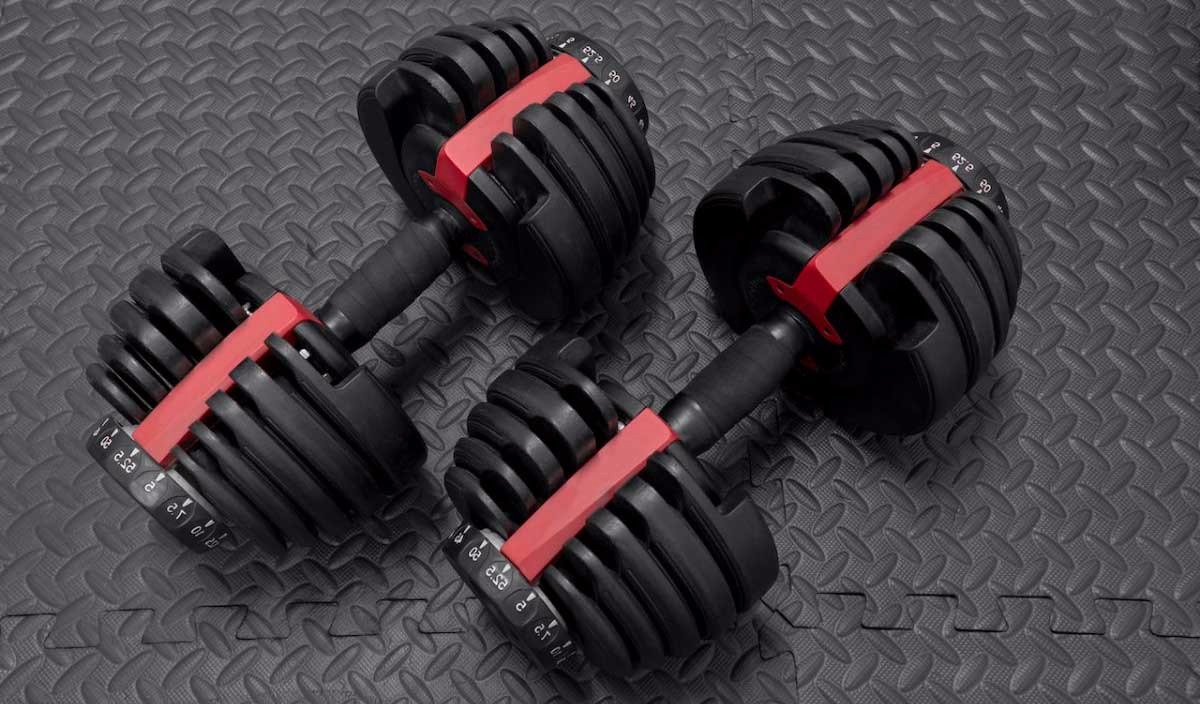 They can be used as a substitute for barbells, as they allow a greater range of motion, and are more manageable than other types of material.
They allow to generate two types of overloads: mechanical and metabolic . The metabolic load is produced when the muscle that we train becomes fatigued, and in order to adapt to this stress and stimulus, it increases its size with the aim of storing a greater quantity of glycogen. 
Mechanical overload is that which is stimulated as a result of damage to the fibres that make up the muscle mass. 
The incorporation of dumbbells to our workouts allows us to activate at a muscular level, in greater proportion than using only body weight.
They allow you to perform a wide variety of exercises . This type of equipment will allow you to repeat specific movement patterns by placing the weight on a muscle or muscle group.
Benefits of training with dumbbells.
Dumbbells provide and allow for greater ergonomics when carrying out the exercises in the training routines.
Increased caloric expenditure: The caloric expenditure of training is higher due to the greater efforts involved. It can contribute to fat loss and muscle mass gain.
They offer a greater freedom in the range of movement adapted to our constitution and joints.
They allow to increase the loads progressively without big jumps.
Where can I buy cheap dumbbells?
You can find dumbbells of optimal quality and affordable prices on our website. 
We have a wide range of equipment available for you to carry out your workouts and get the best results. Training at home is becoming easier and easier.
Related articles
16 exercises with dumbbells at home - Get more out of them Tighten your arms and glutes with these two targeted routines Three exercises to tone your arms and glutes