Buy
Pasta

ONLINE only best brands

Products based on different types of pasta , intended for specific diets where carbohydrates or fats are not provided.
---
Pasta is one of the most common food items in our Mediterranean diet , and we all think of it as a healthy food that we should not worry about eating at all. And there is one component that makes this good image even better, and that is that many elite professional athletes often use it in their healthy eating regimes to improve physical performance. So some of you may be surprised to see that we have a dedicated category for sports pasta at NutriMarket, but the reality is that traditional pasta has some room for improvement, and these products have done just that.
A more detailed explanation will be given later, but the basic notions that must be known in order to understand the importance of this fit pasta have to do with the amount of carbohydrates contained in rice, noodles, macaroni, etc. While it is true that these carbohydrates can play an important energetic role, it should also be noted that they are an obstacle in weight loss diets, for example.
The importance of pasta for athletes
The emergence of sports and healthy nutrition as one of the sectors that has evolved the most in recent years is mainly due to a growing concern about the dominant eating habits in our daily lives. Many scientific studies have already brought to light a far too large number of bad practices on the part of the food industry, the consequences of which affect our health.The exponential increase in diseases such as diabetes and obesity, which are directly related to diet, is one of the clearest warnings that change is needed.
The response of many companies has been to dedicate their production efforts to creating a new food market that seeks to improve the health of consumers. The success of this type of product has led to its rapid growth and, as a matter of shared interests, is linking this new industry of healthy nutrition with sports nutrition.
The combination has resulted in a number of brands whose main objective is to improve the nutrition of athletes in two directions: on the one hand, by eliminating unhealthy compounds and, on the other hand, by trying to provide a valuable boost to improve physical performance.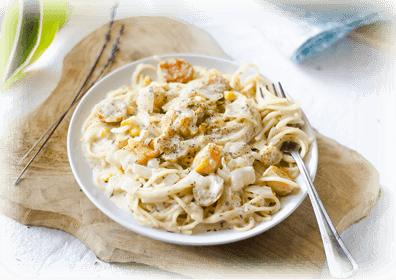 Sports pasta is a perfect example of the possibilities that arise from this marriage of health and sport. It is a type of pasta in which the presence of carbohydrates, sugars, fats and calories has been reduced as much as possible, thus boosting the presence of proteins. Although it is true that each product has its own characteristics, most of them coincide in this objective.
Benefits and the variety factor in fitness pasta
The main benefits of fitness pasta are several. Obviously, calorie reduction is the most obvious and one of the most important, as it can be used for weight loss diets as well as defining and many other objectives. The same applies to fats and sugars which, by minimising their presence, make this type of food compatible with strict and very prohibitive diets. In this way, you can take advantage of the energy boost provided by pasta without fear of breaking the rules of your diet. Plus, because many of these products are enriched with protein, your muscle performance will be boosted.
As in NutriMarket we are sure that many of you will want to try the benefits of pasta for athletes , we have made available to you a section of the catalogue fully focused on these products. The variety available will allow each customer to choose their favourite pasta and will prevent you from falling into monotony.
Fitness spaghetti: protein, fibre and nothing else
The fitness spaghetti from Slim Pasta is a perfect example of the great benefits this brand has to offer. Apart from being delicious, they contain 0% carbohydrates, fats and sugars. In this way, the presence of calories is greatly reduced, even having 30 times less than traditional pastas .
Instead, this spaghetti is rich in fibre, which helps the digestive system and produces a feeling of satiety that will help you stick to your diet. They are also gluten-free and suitable for vegetarians and vegans.
For the most exquisite palates: tagliatelle
If you are one of those people who like to try new foods, perhaps the classics such as spaghetti, rice or macaroni bore you. That's why we wanted to add to our catalogue of pasta for athletes recipes as original as Tagliatelle by Mr. Poppers . These are nest-shaped noodles in which the sugar content has been reduced to a minimum. They are high in protein and fibre, helping the athlete's body to perform more effectively.