Buy
Zma

ONLINE only best brands

Buy through the Internet the best products based on ZMA , and receive them in 24 hours. Only the best brands and the cheapest.
---
What is ZMA?
ZMA is a sports supplement that is composed of 2 minerals, zinc and magnesium, together with vitamin B6 and has the main objective of increasing testosterone levels and other anabolic hormones responsible for the gain of muscle mass.
The combination of these three elements, promote increased strength and muscular endurance, rest, and accelerate recovery after workouts. It stimulates the production of testosterone and thyroid hormone, which contributes to improving body composition by increasing muscle mass.
Each component of ZMA has specific functions. They act synergistically to achieve their goal. It is an effective and natural supplement.
ZMA is a complex recommended for people who want to promote muscle mass gain, increase their levels of testosterone and other hormones, relieve tension generated in the muscles, and improve their quality of sleep.
How does ZMA work?
Zinc : is a mineral that promotes the production of testosterone. It helps to strengthen the immune system and to fight free radicals produced after physical exercise, thus promoting recovery. It is involved in the processes that regulate the system, promotes fertility and is an enhancer of neuronal connections .
Magnesium : promotes protein synthesis, helps improve sleep and rest, a factor of particular importance for the production of testosterone and other hormones, such as growth hormone, which will benefit muscle mass gain. It also lowers blood sugar levels and is involved in energy production and ATP synthesis.
Vitamin B6 : is needed to improve the absorption of the other nutrients in the ZMA complex and ensure maximum effectiveness. Among its functions, it is involved in energy metabolism, the production of certain neurotransmitters, and antibody production.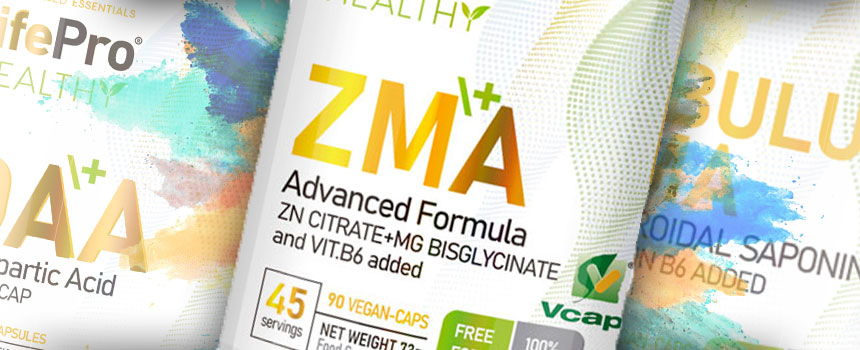 When to take ZMA?
ZMA is recommended to be taken 20 to 40 minutes before going to sleep because magnesium can promote sleep and its onset and will improve its quality. 
A second dose may be taken throughout the day depending on the total dose.
How to take ZMA?
Take between 1 and 3 capsules, depending on the amount you want to supplement with, as well as depending on the composition and dosage of each supplement, as it may vary depending on the manufacturer.
Do not exceed the recommended dose.