COMPOSITION OF LIFE PRO HEALTHY ZMA
This product is composed of zinc, magnesium and vitamin B6.
WHAT IS IT FOR?
Life Pro Healthy ZMA is a very special supplement, since it combines three ingredients known worldwide to achieve a series of benefits that could not be obtained separately. That is, it is not only ideal for anyone who suffers from a deficiency of zinc, magnesium or vitamin B6, but it also has very valuable properties for athletes.
The most important property of Life Pro Healthy ZMA has to do with testosterone, an anabolic hormone that is directly involved in the processes of building lean muscle mass. This product is capable of increasing the presence of testosterone in the organism, facilitating notably the growth of muscle volume, one of the most difficult objectives to achieve in fitness. It also improves recovery after intense training.
In more generic terms, the magnesium in Life Pro Healthy ZMA can improve the quality of a good night's rest.
BENEFITS OF LIFE PRO HEALTHY ZMA
Increases the presence of testosterone in the body.
Improves anabolism.
Facilitates the growth of lean mass volume.
Increases the effectiveness of recovery.
Improves sleep quality.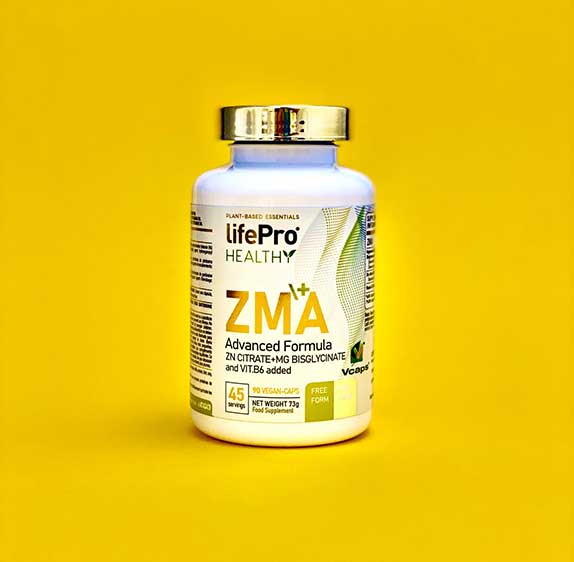 HOW TO TAKE LIFE PRO HEALTHY ZMA?
Take 2 capsules a day. It is recommended to take them 30-60 minutes before bedtime and on an empty stomach.
Is magnesium glycinate better?
This form of magnesium is less likely to have a laxative effect than magnesium citrate. Because it is bound to the amino acid glycine, it has a calming effect and can be used for stress relief, insomnia, anxiety and more.
What is magnesium glycinate used for?
It is a mineral supplement used to prevent and treat low amounts of magnesium in the blood. Magnesium is very important for the normal functioning of cells, nerves, muscles, bones and heart. In general, a well-balanced diet provides normal levels of magnesium in the blood.
Is it good to take magnesium every day?
It is recommended not to exceed 350 mg of supplemental magnesium per day. However, several studies have involved higher daily doses. It is recommended to take only one daily magnesium supplement that provides more than 350 mg under medical supervision.