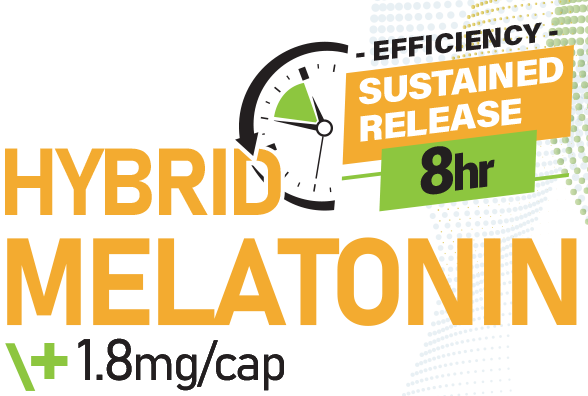 Composition:
This product is composed of melatonin with two types of release, a quick release and a sustained release, an avant-garde formula with respect to the current ones on the market that will guarantee your rest.
What is it for?
Among the functions that melatonin performs, we find some as important as the correct functioning of circadian rhythms, the regulation of sleep and wakefulness cycles, energy and glycemic control and a marked oxidative stress reducing effect.
In this way, an organism rests at night to a great extent thanks to the fact that darkness generates melatonin production and sunlight lightens it, thus allowing us to have marked hours of rest and repair and hours of activity marked by exposure to the sun.
Therefore, melatonin is a strong ally in the fight against insomnia and problems arising from poor quality and quantity of sleep so that supplementation with melatonin will help to higher levels of it getting deep and sustained sleep.
However, with respect to melatonin supplements, many of the formulas currently produced have an incorrect release, being too fast, generating a peak in the blood in the middle of the night, which finally causes us to wake up early, which means that we do not rest.
On the other hand, too high concentrations or the use of some sustained-release melatonin formulas can cause daytime drowsiness and hangover sensation because its elimination from the blood is too sustained, being present in the blood during the day, when we should be awake and exposed to light.
Thus, this hybrid release formulation (rapid release and sustained release) will be able to help us achieve an effective rest without negative effects, because it combines the best of both types of melatonin, unlike other supplements currently marketed that far from improving rest, can actually worsen it.
In addition, melatonin is a very safe supplement with ample scientific evidence behind it, which is growing day by day, to the point of being one of the most studied supplements on the market and a great help in improving the quality of life and health of the population.
In this way, the consumption of Hybrid Melatonin will ensure you an efficient rest without imbalances or side effects, improving your state of health and sleep.
Benefits:
Sustained rest throughout the night.
Improved sleep latency (we get to sleep earlier).
Better quality and deeper sleep.
Increased hours of sleep.
Antioxidant effect.
Regulation of circadian rhythms.
Neuroprotective effect.
Possible improvement of stress and protection against weight gain and metabolic syndrome.
Precautions:
If you are receiving any type of medication such as anticoagulant or antiepileptic drugs consult your doctor before use.
If you are suffering from a diagnosed pathology, consult your doctor before use.
Elderly people may suffer a slower metabolization of this product.
In people with insulin resistance it is advisable to separate its consumption a few hours after dinner.
What dose to consume?
Consume 1.8 mg of melatonin (1 capsule) 40 minutes before going to sleep a couple of hours after dinner.