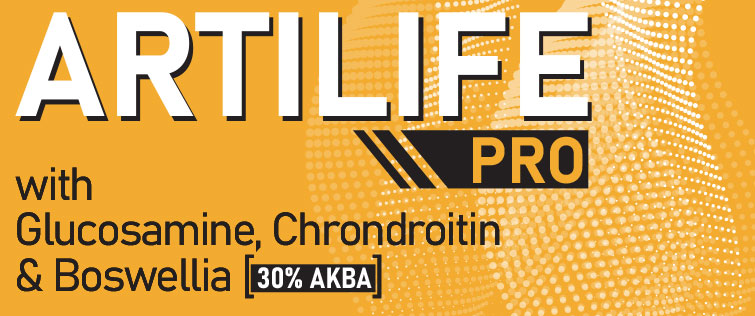 What is it used for?
Joint degeneration is a fairly common process associated with disuse or overuse of the joints.
Factors such as poor nutrition, sedentary lifestyle or inadequate management of the training load, can cause the onset of discomfort or premature degeneration of tissues, which can lead to situations of general discomfort, pain or functional inability even to perform day-to-day activities, thus leading to a series of physical and psychological complications.
In the resolution of this problem, proper nutrition, good management of physical activity and daily activity are key, along with the establishment of healthy habits, where ultimately supplementation can be an effective aid.
In this sense, the composition of the product has a novel formulation adjusted to the effective doses of each active ingredient according to the scientific evidence currently available. 
The design of this product has a formulation that provides an anti-inflammatory component and a regenerative/antidegenerative component thanks to its 4 main components and a fifth component focused on improving bioavailability.
Thus, within the components of ArtiLife Pro, we find those ingredients aimed at improving the degenerative symptoms of the tissues that make up our joints, such as chondroitin sulfate and glucosamine sulfate, which consumed in sufficient quantity and time, manage to slow the progression of the degeneration of joint tissues effectively compared to other active ingredients.
 On the other hand, boswellia serrata and turmeric extract are traditional medicinal components of Ayurveda, the ancestral Indian medicine, where they have been used for centuries. Currently, research on these active ingredients shows us how both regulate positive and effective mechanisms in the resolution of inflammation, helping in cases of swelling of the joint or the appearance of chronic inflammatory states, which do not disappear over time. At the same time, the black pepper extract is added, which improves the bioavailability and assimilation of these compounds, allowing them to be much more usable and beneficial.
On the other hand, to guarantee the existence of first quality materials, the use of cursol ® in the turmeric extract together with bioperine ® as a patent of black pepper extract, assures us a bioavailable and effective product in the treatment of painful symptomatology. Also in the case of Boswellia Serrata, this product ensures to have 35% of AKBA the main boswellic acid with anti-inflammatory effect that conforms it and with promising scientific evidence in the improvement of these symptoms mentioned.
Composition:
This product contains boswellia serrata, glucosamine sulfate, chondroitin sulfate, curcumin (cursol ®), black pepper extract (bioperine ®) and boswellia serrata.
Benefits:
Significant anti-inflammatory effect.
Helps against osteoarthritis symptoms.
Reduction of joint pain symptoms.
Helps against cartilage degeneration.
Prevents the progression of joint degeneration.
Helps against pain caused by acute inflammation.
Its long-term consumption decreases the general inflammatory state.
It helps against arthritis.
Precautions:
In case of receiving any type of medication, consult your doctor.
What dosage should I take?
Consume 3 capsules throughout the day.